How accurate are at-home COVID tests?
Written By Mila Nguyen February 17, 2022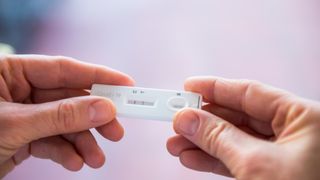 Knowing how and where to get accurate COVID test results can be stressful. COVID tests done by a lab take multiple days and accelerated testing costs hundreds of dollars. The most convenient solution is often at home tests. COVID tests are often required immediately, and people cannot afford to spend money and time waiting for results: what better to do than to get an at home test?
While COVID tests can be influenced by a variety of factors thus having varying results; the tests we researched are the three top tests with the highest accuracy.
BinaxNOW
BinaxNOW has been labeled by many health officials as the best test overall. The BinaxNOW test has detected 95% of infections in people positive for COVID. While the 5% discrepancy may put some readers on edge, 95% accuracy for an at home test is extremely high. BinaxNOW test is an antigen test that is designed to register proteins from the COVID-19 virus. While many tests are less sensitive to the new Omicron variant, Binax is reported to test for Omicron with the same sensitivity as previous variants. The test costs around $25 and can be found at local pharmacies.
Everlywell
Everlywell is another reputable at home COVID test brand. Everlywell tests are different in that they are diagnostic PCR tests. They measure the presence of RNA from COVID-19 in your body. Being a diagnostic PCR test, it determines whether the antigens in your body are currently active. It will let you know whether your body is currently fighting the virus and if you have a high chance of spreading it. Everlywell, similar to all other COVID tests, uses a nasal swab that goes into your nose cavity. Instead of using a long and invasive nasal swab, its swab only needs to go one inch into the nose. Mouth or saliva swabbing is also provided by Everlywell. While Everlywell does require their results to be sent to a lab, the process is relatively quick. Everlywell also has received a EUA from the FDA and exceeds a 95% accuracy study.
Flowflex
Last but not least, is the most affordable option: Flowflex. Flowflex has a 93% accuracy rate for identifying positive antigens and 100% accuracy for identifying negative ones. These tests are around $10 each and can be found locally or online. Results appear in a mere 15 minutes. Being a standard at home test COVID, it requires a nasal swab to be dipped into a buffer tube. The tube is then swished, and the fluids inside are dropped onto a plastic testing well. The test will then indicate whether the fluid has antigens present or not. It is a painless process and is best for those looking for a cheaper and quicker option.
At Aviva: iHealth
iHealth, the at-home COVID tests that Aviva Pharmacy provides, is among the best in accuracy. They successfully identify 94.3% of positive samples and 98.1% of negative samples. Call in to check our stock of iHealth and BinaxNOW at-home COVID test kits.
Aviva Pharmacy is offering COVID Testing and all COVID-19 vaccines. Walk-in or schedule your appointment today.